William (Bill) Dyke - the original owner of Bydand - was born in Lesotho (Basutoland) and educated at Kingswood College in Grahamstown. At the beginning of the 1914 - 1918 war, he went to Scotland and joined the Gordon Highland Regiment. The motto of the Gordon Highland Regiment was "BYDAND", meaning steadfast.

After the war was over, Bill bought the farm through the Sundays River Settlement Scheme instigated by Sir Percy Fitzpatrick. He called the farm Bydand after the motto of the Gordon Highlanders. He came out in 1919 to develop the farm. All vegetation had to be cleared by hand.

The original homestead was built near the river. William had to send a photograph of the homestead to his young English wife's parents before they would allow her to join him. She did so in 1920. William farmed until his death in 1963. The farm was then sold to Hugh Oxenham. Futa Oxenham followed his father and he sold the farm to Peter Henderson. John and Margaret Job, bought Bydand in 2002 and sold it to the current owners, the Kleyn family in 2021.

The original homestead had to be demolished in the 1970's due to severe flooding, as the banks of the river were eroded close to the house. Part of the kitchen actually slid into the river below. A new farmhouse was built abutting Valentine Road.

Visitors have the opportunity to experience a working citrus farm, the wonders of Addo Elephant National Park and the many other attractions this part of the Eastern Cape has to offer. I am sure William Dyke would be proud of the farm he began almost 100 years ago.
The crest of the Clan Gordon is seen most often on the Glengarries or bonnets of our band members. It consists of a stag's head sitting on a bejewelled crown surrounded by a belt with the word 'BYDAND', across the top.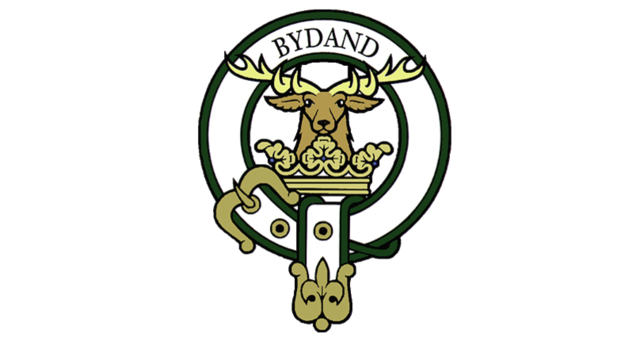 Booking Enquiry
Please note: All bookings will be confirmed.
Physical Address:
Bydand Farm Bed & Breakfast
Valentine Road
Addo
Contact Information:
Lo-Mari - 079 500 6527
Email:
Using this site means you accept its
terms
| Copyright © 2022 Bydand Bed and Breakfast , Addo, Eastern Cape, South Africa
| website by